Company
- Home
- About us

Listings
- Summary of listings
- Bouse Organic Farm- NEW
- Taylor Dairy- SOLD!
- Benson Land- SOLD!
- Holbrook Ranch - SOLD!
- Greater AZ Farm - SOLD!
- Squaw Crk Ranch -SOLD!
- J&K Organic Farm -SOLD!
- White House Rnch- SOLD!

Services
- Brokerage
- Appraisals
- Property Management
- Site Selection/Assembly
- Market research
- Property Tax Analysis
- Water rights
- Mapping/GIS

Members
- Steve Pendleton
- Mack McKeon
- Brett Pfantz


Careers
- Appraisal & Real Estate
News
- Blog/RSS



- Member login




Maps
| | | |
| --- | --- | --- |
| | | |
| Location Map | Topography Map | Aerial Map |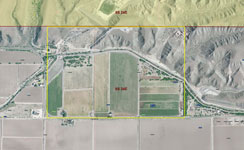 Aerial of deeded - 109-53-005B and 109-52-001

Description - 240 acre farm located near Pima Arizona (APN 109-53-005B, & 109-52-001) with 114.3 acres of decreed irrigated farmland plus Billingsley Creek and the 48% interest in the North Eden BLM Grazing Ephemeral Allotments, a custom home with a commanding panorama view of the farm, Gila Valley and Mount Graham.



Location -The property is located about 2 ½ hours drive from Phoenix in Graham County, 4.2 miles northwest of Pima, AZ at 7920 N Lizard Bump Road via the Bryce-Eden Road.



Irrigation -Irrigation water is supplied by irrigation wells and Gila River via Gila Valley Irrigation District canal. and concrete irrigation ditches. Crops: Cotton, Alfalfa, Wheat, Barley and Livestock Pasture.



Improvements - Include cattle feedlot, shops and two residences. One older 1,648 sq. ft. residence is currently rented, and the Custom owners home is 2,900 square feet under roof built in 2007 on the plateau overlooking the farm.

Downloadable PDF brochure

Contact
Southwestern Ag Services, LLC
7254 East Southern, Ave St. 107
Mesa, Arizona 85209
www.swaservices.com
William "Mack" McKeon
(480) 539-2671
steve@swaservices.com