Holbrook Ranch - Navajo County, Arizona

Photos

Description
The Holbrook Ranch is a High Desert Leasehold interest for sale. The property consists of 4 contiguous grazing leases.

Location, Access: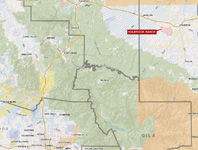 Location Map
Northern Navajo County, about 7.5 miles south and west of Holbrook, west of AZ 77 via Romero road to McClaws road to shipping corrals.

Topography:
The Holbrook property is located on the Little Colorado Plateau. Its topography is gently rolling to relatively flat with a general slope from south to north. Elevations on the property vary from approximately 5200 feet at its southern edge to approximately 4,900 feet at its northern reaches. Various topographic features occur throughout the property, including rolling hills, a number of washes and incised canyons, small plateaus and distinctive buttes.

Vegetation:
Grasses include; Blue Grama, Sacaton, Galleta, Rice Grass, and Needle Grass. Browse includes Four-wing Salt Brush White Sage and Blue Sage
| | | |
| --- | --- | --- |
| AUs | | Description |
| 5.0 | | Thude Lease - 640 acres |
| 60.6 | | Arizona State lease - 6,449.17 acres |
| 168.8 | | Aztec Land and Cattle Lease - 18,003.48 acres |
| 7.5 | | Arizona Public Service Lease - 800 acres |
| 242.8 | | Total yearlong equivalent |

Climate
Summer high tempertature averages mid 80's for the high and lows of the mid 50's. Average rainfall in Holbrook is 7.5".

Utilities
APS to main Shipping corrals on McClaws road.

Improvements
Ranch improvements consist of shipping corrals on paved McClaws road, with one set of working corrals at the Old Headquarters on the eastern boundary of the ranch. Livestock water is provided by 3 windmills and about 7 earthen stock tanks.
Please consult your financial advisor and accounting professional regarding all aspects of farm and ranch ownership.

Price
$600,000

Contact
Mack McKeon
Southwestern Agricultural Services
7254 E Southern Ave, #107
Mesa, AZ 85209
(480) 539-2671
Email: wdmckeon@spireco.com